Laser Clip-Ins for Loupes
With many loupe manufacturers available, Innovative Optics has created over 25 different clip-ins to custom fit your loupes. The clip-ins fit securely between your eyes and magnifying loupe frame. We manufacture polycarbonate and glass lens filters, with the ability to custom match your laser and specific laser wavelength(s).
There can be multiple laser protection options available for most styles of loupes. To ensure that we find the best one for you, we recommend trying our Loupe Fit Kit. This is a 2-week, cost-free trial of all the potential inserts that work for your style of loupes. You simply choose the one that works best and use the included return label to send back the rest! If interested, please fill out the Fit Kit form or call our knowledgeable staff.
Although Innovative Optics is not affiliated with any of the below mentioned loupe manufacturers, we have designed our laser clip-ins to custom fit the model of loupe you are using within your practice.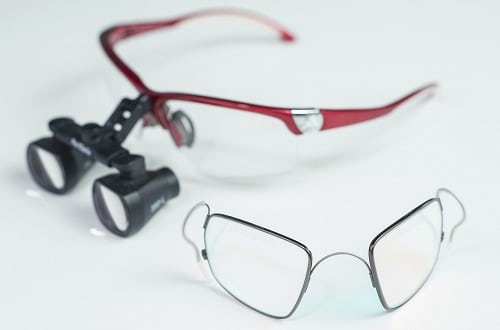 Don't See Your Loupe Manufacturer?
Please contact us including information regarding your loupe manufacturer, frame model, and frame size (if applicable). We have created over 25 different insert shapes/sizes, therefore we may additionally require pictures and/or a tracing of your frame to ensure proper fitting.
Stylish, affordable, and effective -- Look for yourself.
Dental professionals, dermatologists, and plastic surgeons love our best-selling laser clip-ins.